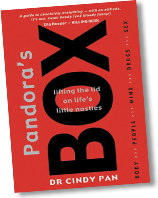 A modern guide to health, sex, drugs and relationships in the 21st century.
In a tongue-in-cheek, honest, funny and factual way, Dr Cindy Pan explores a wide range of subjects relevant to anyone with a pulse. The good doctor moves from body image and eating disorders, pornography and penis size, sexually transmitted diseases and 'you want me to do what?' sex to ecstasy (and other drugs), alcohol, abortion, rape, depression and suicide.
Pandora's Box lets loose with all the important things you've wanted to quiz your mother, your friends and your shrink about, but were too afraid to ask.
To purchase 'Pandora's Box – lifting the lid on life's little nasties' click here.
Reviews for Pandora's Box:
A guide to absolutely everything – with an attitude. Its ace, super handy (and bloody funny!)
– Ella Hooper, KILLING HEIDI
She writes about men and women, and the differences between them with understanding and wisdom. The serious information is imbued with her sense of humour and high spirits.
– The Weekend Australian
It's not often that you read a book written by a medical professional about serious subjects such as health, drugs and relationships that is humorous, to the point and very readable. Dr Cindy Pan has managed to do this in her first book, "Pandoras Box"
– The Age
Just because it's comprehensive, doesn't mean it's textbook dull – in fact it's pee-your-pants funny. It's a great bedside bible for anyone. 8/10
– Cosmopolitan magazine
Dr Cindy Pan's new guide to health, sex, drugs and relationships leaves no stone unturned. Her strength lies in her depth of knowledge and her ability to discuss delicate subjects in a warm, chatty and straightforward manner.
– TV Week
This is the handbook to head, heart and genitals that we should have been issued with at puberty. It's thorough, never talks down to the reader and is both highly intelligent and gut-bustingly funny.
**** (Four stars!)
– The Big Issue
Funny, informative and not afraid to cover topics most people would shy away from. In Dr Pan's hands, life's little nasties don't seem so nasty.
**** (Four stars!)
– Australian Women's Forum
A lively and factual look at contemporary issues, as easy to read as a teen magazine but a lot more credible. And Dr Pan, bravely, isn't afraid to use herself as an example.
– Canberra Times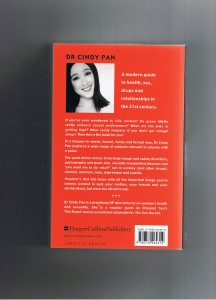 …an unabashed look at health, sex, drugs and relationships in the 21st century…tongue-in-cheek but also honest. According to mythology, Pandora's Box unleashed myriads of evils, however Dr Cindy Pan's version should release only benefits.
– Gold Coast Bulletin
Pandora's Box – lifting the lid on life's little nasties was published by HarperCollins Publishers Pty Ltd
www.harpercollins.com.au