Some Girls Do…My Life as a Teenager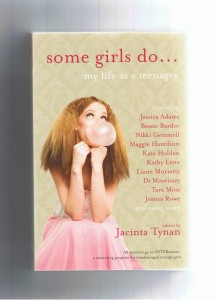 You've read their best-selling books. Now some of Australia's favourite female writers recount the true stories of their teenage years in this bumper collection….
Contributors include:
Kathy Lette, Di Morrissey, Nikki Gemmell,
Dr Cindy Pan, Tara Moss, Bessie Bardot, Jessica Rowe, Belinda Alexandra, Jessica Adams, Kathryn Eisman, Bianca Dye, Eva Cox, Kate Morton, Gabrielle Lord and Lisa Wilkinson.
For every woman who has been a teenager or is one now, a funny, quirky and revealing collection of stories by well-known Australian women writers about their teen years.
Remember your high school formal, your first love, first kiss, first bra, and the first time you realised your parents weren't always right? Relive the joys (and the horror) of your adolescence with Some Girls Do, as 50 inspiring and accomplished writers reveal how they survived those challenging years.
Whether they're writing about adolescent angst, first crushes, being a rock groupie, battles with anorexia, deciding to become a nun, these women prove that while the teenage years are not necessarily the best, you can survive to tell the tale.
The result is a wonderfully funny, moving collection of memories, of different times and different lives, told with honesty, insight, sensitivity and humour. No two experiences are the same, because while some girls don't have a care in the world, real or imagined, some girls do …
Some Girls Do was edited by Jacinta Tynan and published by Allen and Unwin
www.allenandunwin.com
ISBN: 9781742372600