Sick of sabotaging potential relationships with desperate text messages and obsessive behaviour? Tired of lengthy phone calls to gal pals hoping to get to the bottom of what he really means in those cryptic e-mails? Or maybe you′ve already nabbed your dream dude, but right now he′d rather watch the adverts during the test cricket than stare dreamily into your eyes?If you′ve reached the point where you′re considering buying five cats and a knitting machine and chucking in this dating malarkey once and for all, listen up – help is at hand.
In their saucy, funny and feisty new book, Dr Cindy Pan and Bianca Dye suggest that instead of trying harder, you might simply try playing harder to get. They reveal how to play the dating game and not only win, but to enjoy every moment. You′ll laugh (and cry) with Bianca as she exposes her own dating disasters, wonder why you didn′t think of Cindy′s sage advice yourself, and learn to hold back and love yourself enough to snag Mr Right.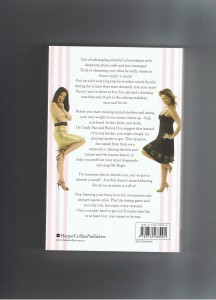 Stop blaming your lousy love life on someone else and get a game plan. Let Cindy and Bianca take you by the hand and walk you through a few matches. Before you know it, you′ll be playing like a pro. Who said playing hard to get was hard? Once you try it, you′ll realise that life, or at least love, was meant to be easy.
To purchase 'Playing Hard to Get' click here.
Published by HarperCollins Publishers
ISBN 9780732283001