The Ties that Bind – Six Journeys of a Lifetime
Featuring Eden Gaha, Dr Cindy Pan, Craig Wing, Wendy Matthews, Jay Laga'aia and Mary Coustas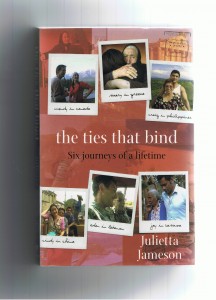 In The Ties that Bind six well-known Australians share a uniquely personal and moving journey of discovery as they return to their family's 'homeland' to find the real meaning of home and family – and their place in the world.
Inspired by the powerful documentary series of the same name, author Julietta Jameson follows in the footsteps of those who made the emotional journey home.
We join its creator, actor Eden Gaha, as he fulfils a promise to take his grandfather back to his hometown in Lebanon; and travel with actor and comedian Mary Coustas as she returns to Greece with her mother and brother; actor Jay Laga'aia to Samoa with his mother and his young son; doctor Cindy Pan and her mother to China; rugby league star Craig Wing and his mother to the Philippines; and singer Wendy Matthews as she returns to Canada for a reunion with her family.
The Ties that Bind allows us to share in the unexpected joys and often heartbreakingly poignant moments as family meets family for the first time – and loved ones are reunited after almost a lifetime apart.
The result is an uplifting and moving family memoir that will strike a chord with the millions of Australians descended from immigrants – and anyone who has ever felt the pull of the most binding ties of all: family.
The Ties that Bind (ISBN 1 86325 381 5) was published by Bantam, Transworld Publishers, a division of Random House Australia Pty Ltd, http://www.randomhouse.com.au
Comments Off on The Ties that Bind